Gift Cards
Give the gift that everyone wants. You can purchase a gift card at any Sweet Peppers Deli location or choose an option below to order a gift card online. You can choose between our Peppers gift card or our Eat With Us gift card. The Eat With Us gift card is accepted at all Sweet Peppers Deli, Grill, and Harveys locations.
Order Our E-Gift Card Here!
Click on a card below to purchase.
×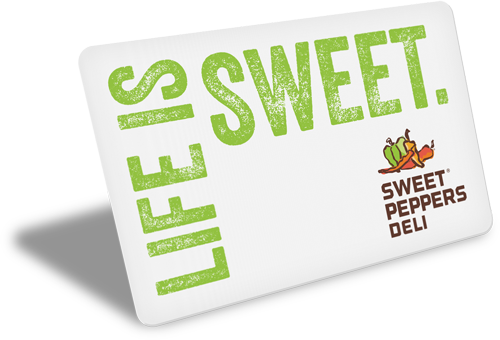 Which type of gift card would you like to purchase?
Check Your Balance
You can check your balance by entering your gift card number below. All outstanding Bulldog Deli Gift Cards will be honored and can be redeemed at the University location.
Check Peppers Card Balance
Bulldog Deli Card?
Gift Card Help
Please let us know about any questions or problems you are having with your gift card. Our staff will contact you to address them.